Extend STEAM Learning From the Classroom to the Home
---
Multiple Inventions in Each Kit
---
BITBOT
Invent a rover that roams your world wirelessly. Use this versatile vehicle to prank your pets or turn your room into a race track!
BUBBLEBOT
Invent a bot that creates big, beautiful bubbles using only a few Bits and some items from around the house.
PRANK PACKAGE
Invent a box that bursts open on command to surprise unsuspecting bystanders.
SPINMATE
Make a spinning sign for your lemonade stand or a creature that dances dizzily on your desk!
ROTOLAMP
Create your own light patterns that dance in the dark with this rotating light projector.
SPIN ROLLER
Invent a topsy turvy rolling hover board that does flips while it rolls!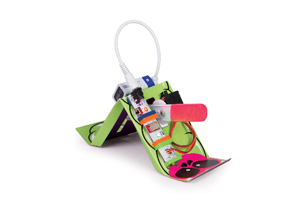 INCHWORM
Invent a creature that crawls across the carpet like a hungry inchworm racing for an apple.
MEGABLASTER
If you could have one superpower, what would it be? With a few Bits and a little imagination, you can blast that power onto anything!
ART SPINNER
Create a spin-art platform! Draw the next great artistic masterpiece or dizzying geometric patterns.
BREEZY BUDDY
Whether your classroom feels like the surface of the sun or you want to bring the breeze with you on your next nature walk, this simple fan will keep you cool.
FAN OF FORTUNE
Create a fan that predicts the future. Just shake your phone to activate the spinner and let fate decide.
BUMPERBALL
Invent a game that puts a new spin on an old arcade favorite: the pinball machine.
CAMERA CLICKER
Invent a controller that snaps photos wirelessly from the camera on your phone or tablet.
MISCHIEF MACHINE
Create an invention to prank unsuspecting friends by rustling the robotic arm in a bag of your choice.
AIM GAME
Invent a game to train your aim! This invention tallies how many times you hit the target and keeps score on your device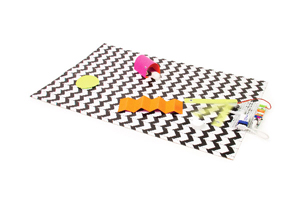 SWING-O-MATIC
Invent a machine that mimics your moves and helps you improve your baseball, golf, or tennis swing.
Add this 3-3/16" (80mm) diameter wheel to a DC motor and take your invention for a spin!
Customize your inventions and get creative with our official littleBits sticker pack.
Use a servo mount and littleBits shoe to secure your servo motor to any surface.
Your servo motor comes with a couple great arms to help you in your projects.
The screws secure attachments like the mechanical arm and servo mount to your invention.
This little purple screwdriver is used to modify any Bit with a micro adjuster.
We've simplified construction for some inventions by creating these paper templates.
Attach the arm to your servo or DC motor to expand your invention's motion capabilities.
These adhesive dots are easy to apply, don't need to dry, & have serious sticking power.
Sizes
Height 3"
Width 7.5"
Length 12.165"